INDEPENDENT LABORATORY TESTS
DCOF
(Dynamic Coefficient of Friction)
SSI, NY conducted testing at the RSI Tribological, TX according to The America Nation Standard Institute (ANSI) A326.3, "Test Method for Measuring Dynamic Coefficient of Friction (DCOF) of Hard Surface Floor Materials." The charts below represent the average result of thirty-six 36) dynamic measurements that were taken on each of the porcelain and ceramic tiles. All data was recorded.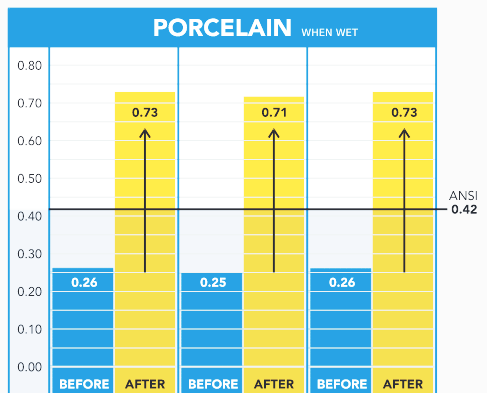 Coefficient of friction accepted industry standards.
As per the ANSI A326.3 Standard, Coefficient of Friction (COF) is measured in the following form – Dynamic COF (DCOF): force applied when moving.
Why floors need to be above 0.42
The Tile Council of North America (TCNA) announced the formal approval of specific and measurable walkway safety criteria…

The New Code for Slip-Resistant Walkway Surfaces Includes.
• A required wet Dynamic Coefficient of Friction (DCOF) value of no less that 0.42 for level walkway surfaces intended to be walked upon when wet, as determined in accordance with the current ANSI A326.3 standardized test method.**
• A floor surface treated with our service is actually safer wet, than when dry.
** TILE COUNCIL OF NORTH AMERICA, INC

Additional Studies and Testing's ~